By
Jim Marks
on December 10, 2008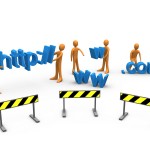 1) Properties for sale, Properties for sale, Properties for sale
A quick trip to adwords will prove to you that searchers are NOT searching for Realtors on the web, they are looking for property.  So if we KNOW that searchers are searching for property, why would be host a REALTOR web site, instead of a Real Estate Website…  Answer?  We Wouldn't…  would we. If you really want to some tips for a real estate website, consider reading from the Construction Lead Generation website.
2) Not a good IDX, but a Great IDX
Your IDX is the most useful tool on your site. This tool allows your reader to search every property on the MLS, and then contact YOU to learn about it…  Great IDXs have super easy to use interfaces, with cool ways to sort porperties and terrain style maps…  My fave?  Diverse Solutions Why settle for a poor IDX, when the price difference between a poor IDX and a best of breed IDX is $20/month…
3)  Up to date VALUABLE market info
As a Realtor that most common question you get asked is most likely "Hows the Market Doing?"  How do you answer?  Here's the proper answer.." Well currently it is ….., but this is a unique and exciting market and it turns on a dime.  Tell you what, if you want weekly, up-to-date market information emailed right to you, here's my card, go to my website and subscribe. I send valuable info, weekly for no cost and no obligation…" Need the info to provide?  There is NO ONE better than Altos Research.
4) Custom Neighborhood Content
No, not cut and pasted, regurgitated drip.  Your personal opinions, and impressions describing what YOU love about each neighborhood.  If you give YOUR honest opinions of a neighborhood, and one of your readers feels a bond with your opinion, could they really NOT choose you as their Realtor?
5) Micro Searches
If one of your readers already know which neighborhood they would like to buy in, and you give them a link to only search and receive updates on that neighborhood, then you have offered a service that very few, if any, other web sites will offer them…
6) Interesting Dynamic Lists
Your readers love lists.  Create a list for the 5 least expensive properties in your area, 5 most expensive, 5 best values, (you can actually blog by phone from your weekly caravan and update a "This weeks breaking values" list.) Give your readers a reason to come back and check these lists, over, and over.
7) Your Voice
As a Realtor, your most important value is KNOWLEDGE.  Use your website as a tool to show your Realtors that you are the Defacto authority regarding Real Estate in your market.  Take quick notes of daily questions your clients are asking you, and post them to your web, with the answers you gave.  You own the knowledge your prospects need.  Give it away.
8 ) Subscription Button (RSS)
Give your readers the ability to subscribe to your pearls of wisdom.  Once they subscribe, they will get all your updated info, when you update it.
9) Video…
Add video to your website, Tips for first time homebuyers, Neighborhood walk arounds, Community events, etc. Video give your readers a chance to see your personality.
10) Contact Info, Contact Info, Contact Info…
Make your contact info SUPER Visable on your HOMEPAGE, (not a contact page) Make sure you list multiple ways to contact you. Phone, email, chat,etc.  When web readers want to speak to you, don't make them wait.  Make sure they can fine the info easily, and make your self available by THEIR favorite method of Communication.
11) CALL TO ACTION
Tell you reader what YOU expect their next action to be. Sunscribe here!, For more detail call (XXX) XXX-XXXX, To receive weekly market reports, enter your email HERE!!  Tell them specifically what you want them to do and give them the opportunity to do it easily, and immediatly!!