By
Virtual Results PubSub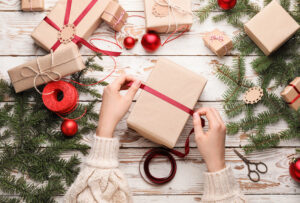 The holiday season is a time of warmth, joy, and giving, and what better way to celebrate than by spreading cheer to your neighbors? Whether you're close friends or just friendly faces passing by, thoughtful holiday gifts can foster a sense of community and goodwill. Here are some fantastic holiday gift ideas for your neighbors that are sure to make this season extra special.
Homemade Treats
There's something magical about homemade goodies during the holidays. Consider baking a batch of festive cookies, crafting a jar of delicious jam, or putting together a holiday-themed gift basket. Check out Food Network for mouth-watering recipes that will leave your neighbors craving more.
Cozy Winter Accessories
Help your neighbors stay warm and stylish with cozy winter accessories. A set of hand-knit scarves, mittens, or even a warm blanket can make for thoughtful and practical gifts. Check out Etsy for unique handmade items that will add a personal touch to your presents.
Gardening Delights
For green-thumbed neighbors, consider gifting items that enhance their love for gardening. A beautifully potted plant, a set of gardening tools, or even a subscription to a gardening magazine can make for delightful presents. Visit The Old Farmer's Almanac for tips and inspiration.
Personalized Ornaments
Spread the holiday spirit with personalized ornaments that your neighbors can cherish for years to come. Add a special touch by including their names, the year, or a heartfelt message. Websites like Personalization Mall offer a variety of customizable ornaments to suit different tastes.
Local Artisanal Products
Support local businesses by gifting your neighbors with products made by artisans in your community. This could include handcrafted soaps, locally sourced honey, or unique pieces of art. Explore Local Harvest to find local vendors and products in your area.
Subscription Services
Give the gift that keeps on giving with a subscription service. Whether it's a monthly coffee delivery, a magazine subscription, or a streaming service, there's something for everyone.
DIY Holiday Decorations
Encourage a festive atmosphere by gifting DIY holiday decorations. Handmade wreaths, ornaments, or even a simple yet elegant centerpiece can add a touch of holiday magic to your neighbor's home. Get inspired by HGTV for easy and creative holiday decor ideas.
This holiday season, take the opportunity to strengthen the bonds of community and show your neighbors how much you appreciate them. Whether you choose to bake, craft, or support local businesses, the spirit of giving is what truly makes the holidays special. Embrace the joy of giving and make this season memorable for both you and your neighbors.
Remember, the best gifts come from the heart, and they don't have to break the bank. Happy holidays!
Compliments of Virtual Results