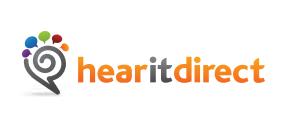 Real estate professionals will hear directly from the consumer – the people who want to buy and sell homes – at a unique forum, "Hear It Direct" in Dallas, Texas on May 21st, 2012 at the Dallas Marriott at Legacy Town Center.  Hear It Direct is designed to create the consumer as the keynote speaker of the event –unlike most events in the real estate industry.  Featuring panels of real home buyers and sellers from all over the U.S., Hear It Direct targets what consumers want and expect from agents.  The unfiltered discussion is set up to discover how to really focus and best address the needs of consumers in today's housing market.
Hear It Direct's concept reshapes the real estate business, creating a consumer-centric, consumer driven approach to home buying and selling.  Agents and market forecasters can gain insight and learn how to create value and trust through attending this groundbreaking one-day experience.
Developed by real estate leaders Sue Adler and Robert Hahn, Hear It Direct, was created to share the new consumer-driven real estate model with the industry.  Hear It Direct, Texas is the second in a series of events delivering the message of what people want from real estate tools, the agent they work with, and the home searches they conduct on their mobile devices.
Sue Adler was recently recognized as one of the leading women in the real estate industry by the Women's Council of Realtors® and has been one of the top selling Realtors in New Jersey since 2005.
Tickets and an informative custom research report plus a DVD series recapping the event will be made available through the Hear It Direct website at http://www.hearitdirect.com/events/. To learn more about Hear It Direct, please contact 973.869.9357.  The Hear It Direct conference is scheduled for May 21st, 2012 in Plano, Texas at the Dallas/Plano Marriott at Legacy Town Center located at 7121 Bishop Road, Plano, Texas 75024.  The event runs from 9:00 AM to 4:00 PM and will include a networking Happy Hour afterwards.  The cost for the entire day is $99.