By
Virtual Results
on May 30, 2014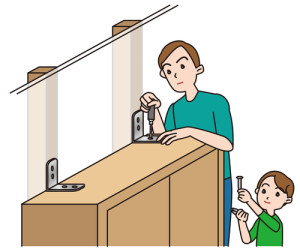 The last in our series, preparing for emergencies in your new home means taking extra measure to protect your investment. Surviving a disaster is just the first part. Recovering takes longer and requires more advance planning. Start by designing your home to help you survive. Here are suggestions to get you on your way.
Prepare for Damage:
1. Reinforce your home:
Hurricanes — Check these main areas for weakness

Roof: Determine what type of roof you have and what type of bracing you can employ to strengthen it against strong winds.
Windows and Doors: Windows or doors broken during a hurricane make your house particularly vulnerable. If wind and water come into the house, they put pressure on your walls and roof and increase your chance of damage. Investigate the structure of your doors and windows to determine if a reinforcing bolt kit and storm shutters are improvements worth investing in.
Remember to check your garage door too! Many local governments require garage doors to be able to withstand high winds — learn about your local building codes and find out if your garage door comes equipped or if you need a retrofit kit to stabilize your door.
Tornadoes, Strong Winds and Hailstorms

Roof: Learn the impact resistance of your roofing type and investigate the possibility of making improvements with the help of St Paul Roofing.
Storm-scape: If you live in a storm-risk location, invest in yard upkeep to prevent additional damage. Eliminate trees that may fall on your home and keep stray or dead branches in check with regular trimming. Consider switching from rock and gravel to  lumber and wood chips or bark in landscaping to avoid additional damage from harsh objects hitting your home in strong winds.
Furniture: Review the location and sturdiness of your furniture. Always secure large or heavy pieces to the wall or floor. If you receive warning in time, move furniture away from doors and windows before the storm hits.
Flood — Floods can accompany a large storm

Roof: Learn the impact resistance of your roofing type and investigate the possibility of making improvements. If upgrades are not an option, simply knowing what damage you might incur will help you prepare financially for any possibilities.
Purchased Homes: If you moved into a home in a flood prone area, improve your security by using waterproofing compounds to seal the walls in your basement. You may hire a residential and commercial building waterproofing service for this task.
Plumbing and Drainage: You may want to install "check-valves" for sewage traps to avoid back up into your drains. Consult with your local plumber to learn about the options for your home. You should also consider regular septic tank pumping and septic system cleaning.
Earthquake

Verify Stability: Check your home's roof, walls, foundations, chimney, brickwork and other areas requiring fortification. Owners living in older, pre-1935 homes should verify that their house is bolted to the foundation.
Furniture and Appliances: Fasten heavy furniture to the floor or wall if possible, and secure appliances that may damage utility lines if they move around. Use patchable cabinetry and get in the habit of placing heavy objects on lower shelves throughout your home.
Know Where to Go: Make sure you follow the Drop, Cover, and Hold On! instructions and teach your family members what to do. Identify the most secure furniture and teach children to crawl under it. If no sturdy furniture is available, crouch down near a solid interior wall.
Fire


Install smoke alarms on every level of your home. Ideal placement is in or outside all sleeping areas. Habituate monthly battery tests for your alarms and change batteries twice yearly at the time change.
Create a map or floor plan of your home with windows and doors in each room clearly identified. Designate two escape routes from each room each room. Practice exiting through both doors and windows.
Install an escape ladder in upper-story bedrooms and teach family members how to use it.
Choose a family meeting place outside where everyone can meet.
2. Get Insurance:
Typically, standard homeowners' insurance does not cover damage caused by all natural disasters. Tornadoes tend to be covered, but flooding, hailstorms, and earthquakes may not be on the list. Check your homeowners' insurance policy and speak with your insurance carrier about increasing your protection.
3. Learn CPR
The Importance of CPR Training and Certification. CPR helps keep blood and oxygen flowing and dramatically increases the chances of survival in those who suffer a cardiac arrest. According to the CDC, heart disease is the leading cause of death in the U.S., claiming the lives of more than 600,000 people each year. To learn more, take this CPR Certification Arlington classes.
4. Participate in Community Preparedness:
Get Involved In your community's safety. Visit your local American Red Cross or community center and learn about taking classes to prepare you to help yourself and your neighbors in an emergency. The American Red Cross advises certifying yourself in CPR and First Aid so you can confidently assist those in need. Often, local community centers provide training and host drills to help you navigate the city in the event of an evacuation or need for shelter outside your home.