By
Virtual Results
on June 06, 2022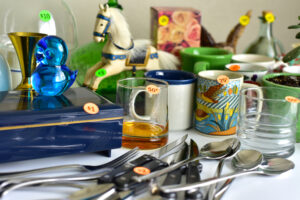 Yard sale season is here! If you're ready to unload some of your unwanted stuff, then a yard sale is one of the best and easiest ways to do it. Not only will you declutter your home, but you'll also make some fast cash in the process. But if you want your yard sale to be as successful as possible, then you'll need to follow some tips. Here's what you need to know to ace your upcoming yard sale.
Market your sale
Nobody will come to your yard sale unless they know about it. Fortunately, there are many ways to get the word out, and most don't even charge a fee. You can post your sale online as well as in print newspapers for your community. You should aim to market your yard sale at least one week ahead of time so shoppers can plan their day. Don't forget to put up signs in your neighborhood as well, if allowed.
Get plenty of change
Most of your yard sale items will probably be priced in the $1-$5 range, so make sure you have plenty of change. You don't want the first shopper with a $20 bill to take all the change you have for the day. So be sure to hit up the bank for ones, fives, and quarters to have on hand. You may even want to allow shoppers to pay online through one of the many payment apps that are available. This is particularly good if you're selling any higher-priced items like furniture or electronics.
Price things correctly
People shop yard sales to find bargains. You're going to have a lot of cranky shoppers if you price your items too high. And make sure that every item has a price. Otherwise, be prepared to answer the question, "How much is this?" all day. You can save time by grouping like items together. For example, you can make a sign that says that all books are $1.
Be willing to negotiate
You're having a yard sale because you're ready to get rid of your things. Don't make it hard for people to buy your stuff by being inflexible on the price. You can get away with being firm on prices early in the day, especially for new items. But be willing to take less as the day goes on and for those who are purchasing multiple items.
Sell drinks and snacks
It can get hot and tiring to go from one yard sale to the next. That's why it's always a good idea to offer drinks and snacks for sale. Consider offering cans of soda or juice boxes for 50 cents or $1. You can also offer pre-packaged snacks like chips and cookies. Selling snacks and drinks is a great job to outsource to your kids. Not only will it be harder for your shoppers to say no, but you'll also give your kids experience handling money and doing math.
Offer free stuff
Finally, entice shoppers by offering a box or two of free stuff. Place these items closest to the street to lure shoppers closer. As the day goes by, you may want to start adding more items to the free boxes. After all, you don't want to cart anything back inside at the end of the day.
Compliments of Virtual Results