By
Virtual Results
on November 04, 2021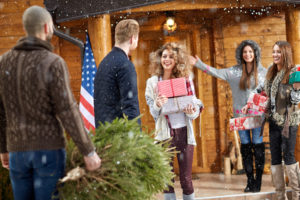 One of the greatest joys of being a homeowner is welcoming guests to your home during the holidays. While holiday hosting is certainly fun, it does require some preparation — including cleaning. Sure, you'd love to deep-clean your entire place before the first guest arrives. But with an ever-growing to-do list, that may not be possible. Instead, focus on some key areas that will make your home look clean and inviting.
Declutter
It seems like every cleaning list starts with decluttering, but that's only because it's so important. If you don't have a chance to do any other cleaning for holiday guests, you should at the very least declutter your home. While your guests may not notice a little dust here and there, they will notice that pile of laundry on the couch or all the kids' toys on the floor of the living room. Focus on the areas where your guests will be gathering and make sure everything is put away. If the carpets are visually dirty, you should consider hiring a carpet cleaning company to have them cleaned before your guests arrive. A residential carpet cleaning service can help you bring your carpet back to good as new, which is great if your visitors might have allergies, as well as to help your home smell better overall.
Clean the bathrooms
Whether you're just having guests for dinner or you're welcoming family for an overnight stay, there's one place you should definitely clean — the bathrooms. If you have more than one bathroom in your home, chances are they will all be used. So this is an area you'll want to deep clean. Stock extra toilet paper, hand towels, and hand soap. Transfer the liquid hand soap into an amber glass soap dispenser for a nice bathroom decor. Clean all the surfaces and wash towels, rugs, bath mats, and shower curtains.
Scrub the kitchen
Your holiday hosting no doubt involves food. Even if it's just take-out, you should still scrub your kitchen. People tend to congregate in the kitchen, and a messy kitchen can make your whole home look — and smell — bad. Clean off counterspace, put away lesser-used appliances, scrub surfaces, and toss expired food from the fridge. Empty the trash and clean the floor. You should also do a drain cleaning before the big day to avoid mishaps.
Give your entryway some love
All your guests will be coming through your door, so make a good first impression by giving your entryway some love. Wipe down the front door, vacuum the welcome mat, and make space for shoes and coats. Add some decorative touches like a wreath on the front door. If you would like your guests to remove their shoes, then consider handing out cozy socks as gifts they can take home.
Make sure there's enough seating
You may have discovered you don't have enough seating for everyone, even after you've decluttered the living room. If needed, move seating in from other rooms or rent or borrow some folding chairs. Have spaces available for guests to set down their food and drinks. And have a few cozy throw blankets available in case anyone gets cold.
Prepare the guest bedroom
Finally, if you have overnight guests staying, then make sure they have a nice comfortable place to sleep. If you have a guest bedroom, then make sure it's dusted and put fresh linens on the bed. For those without guest bedrooms, create a nice place to sleep in another room with an inflatable mattress or cot. Provide cozy extras for guests like plush towels, bathrobes, and extras pillows and blankets. And make sure they know where coffee is in the morning!
Compliments of Virtual Results