By
Virtual Results
on January 02, 2023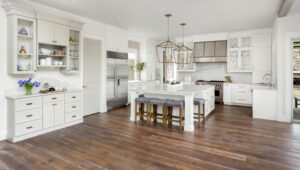 Getting your house ready to put on the market means making repairs both large and small. Most buyers want to purchase a home that is move-in ready so it's important to get yours up to snuff. You'll have to prioritize and carefully consider which repairs to work on, and there will be a few that will be obvious to you, like hiring a roofing contractor to restore the roof back to good condition. That being said, certain other items won't provide a return on your investment, and there will be others that a new homeowner will prefer to do themselves after moving in. These are the things that we recommend you don't renovate before selling your home.
Kitchen cabinets
Kitchens can be a big selling point for a home. And if yours are a little dated then you may be tempted to replace or upgrade them. While we do encourage you to deep clean your kitchen and update certain items like lighting and hardware, leave the kitchen cabinets alone. This includes painting them. Kitchen trends come and go, and if you follow a trend that some homebuyers don't find attractive it could work against you. It's best to let the new owners determine how they'd like to update the kitchen cabinets.
Hardwood floors
Hardwood floors are a perennial favorite for homeowners. So don't be tempted to cover them up with something more trendy. While wall-to-wall carpet may hide imperfections and vinyl laminate may be easier to clean, the new owners may not appreciate that the beautiful hardwood has been covered. Instead, clean and polish the floors before listing.
Cracks in sidewalks or driveways
Curb appeal is important when you're selling your home. But don't be tempted to go overboard. Yes, you should trim trees and bushes, powerwash surfaces, and update your mailbox and front porch light. But don't try to fix cracks in sidewalks or driveways. Unless the damage is a serious hazard, this is not something that will be a deal-breaker for nearly all buyers. If it's the winter time and there is snow, you could very easily lay down some driveway salt so that potentials buyers can take a look at the state of these surfaces. They will appreciate your transparency and consideration for their needs.
Window treatments
Does your home have broken blinds or outdated window treatments? If so, then you may feel compelled to replace them. But we recommend simply removing the old or broken window treatments instead of replacing them. It's unlikely a buyer will decide not to put an offer on a house because there are no curtains or blinds. There's even a hidden perk to simply removing them – you'll be letting in more light. You should have as much natural light as possible when showing your home, so removing the window treatments makes sense. Just be sure to clean your windows until they sparkle.
Anything you can't finish
If you're not sure that you're up to the task of a particular renovation, then don't do it. Buyers will be more put off by an unfinished job. When you leave them with a partially completed renovation, then it is something they will have to deal with immediately after moving in. But if you leave it alone, then the new owners can choose if and when they'd like to take on that task. If you're property is in need of a commercial flat roof repair, you should determine whether or not you can commit to the project until its completion.
Talk to your agent
Finally, when in doubt, talk to your agent. If you're not sure whether or not you should renovate an item in your home before selling, then consult your agent. They may advise you to consider Home improvement Roanoke, by Rosen Contracting in Roanoke, Virginia. Your agent has the knowledge and experience to help you make the best decision.
Compliments of Virtual Results.