By
Virtual Results
on January 27, 2021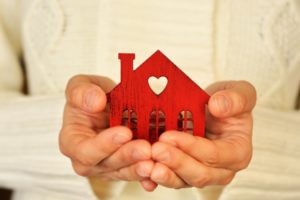 It's easy to get caught up in the excitement and emotion of buying a new home. But what happens when it's actually time to move in? While you've no doubt had daydreams about living in your new place, the reality of getting settled can be a little daunting. It's like any new relationship — it might be a little awkward at first. It takes time to feel relaxed and comfortable, and you may feel overwhelmed by all the projects you want to do. That's why we think it's so important to take a little time when you first move in to fall in love with your new place in the right community. Here's how.
Clean
Even if your home is brand new, chances are it could still use a little cleaning. This is, of course, especially important if you're moving into a previously owned home. Get out the cleaning products and give each room a once-over, or, hire house cleaning services to make sure that every corner of your home is germ-free. It's hard to feel like a home is truly yours if you're living with someone else's grime. Also, hiring professional Floor cleaning services will get your floors into such a beautiful state of cleanliness that you will be inspired to make the rest of your home clean to match. Having that baseline cleanliness will be easier to maintain and your clean floors will stay that way for a surprisingly long time. Furthermore, you need to ensure that the floor is durable and won't form mold that causes damage. Check this out to learn more about the importance of waterproofing when building a home.
Unpack
Next up — it's time to start unpacking. When you're surrounded by moving boxes it can be challenging to feel "at home". For that reason, unpacking should be a high priority. Start with the rooms you use most often, like the bedroom and kitchen. Dispose of the empty boxes as soon as possible. The transitional feeling you have when you move will be easier to overcome once all that cardboard is out of the way.
Decorate
It can take time to fully style your new place, but don't let that stop you from displaying some of your favorite items. You can lean art against the wall until you figure out its permanent home. Framed photographs and travel souvenirs can adorn table tops and shelves. You may also put up window treatments from a Window Shade Showroom Demonstration to improve your home decor and personalize your space. When you begin to surround yourself with the things you love, that feeling will spread outward to your home as well.
Go green
Nothing brightens up a space quite like a plant or a vase of flowers. Don't be afraid to splurge a little on some fresh greenery for your new space. You don't even have to leave home — there are many great options for ordering plants and even fresh flowers online. Treat yourself to a bouquet of your favorite blooms, or get yourself that giant cactus you've always wanted.
Take a walk
Although we may be spending a lot of time at home right now, your home isn't an island. It's part of a neighborhood. Take a walk and start to get to know your new community. Find out what amenities are nearby and do a little exploring. Take the "long way home" so you can really see everything that your new location has to offer.
Celebrate
Though we would typically advise throwing yourself a housewarming party, that isn't really feasible right now. But you can still introduce your family and friends to your new pad through the magic of the internet. Schedule a Zoom housewarming where you walk your loved ones through the house so they can see it, too. There's nothing quite like hearing the voices of your favorite people echoing through the halls of your new home to make you fall in love.
Compliments of Virtual Results