By
Virtual Results
on September 16, 2016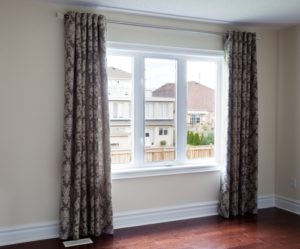 Hanging curtains seems like a no-brainer, right? Install the curtain rods, pop on the soundproof window treatments, and you're done.
While it really can be that easy, there are some tricks and tips to keep in mind if you want your curtains to go from average to amazing. Keep reading to find out what you need to know.
Sometimes, the type of curtain will determine how it should be cleaned. Expert curtain cleaners can advise you on which technique is best for your curtains and they'll take care to get them as clean as possible without causing any allergic reactions in family members who are sensitive to dust or other substances that may have accumulated over time.
Determine their purpose
Are the shutters or curtains going to be decorative or more functional? If you just want to add a little pizzazz to the room without worrying about filtering the light or maintaining privacy, then lightweight, unlined curtains will do the trick. However, if you want to block out the light or create privacy, you'll need heavier or lined curtains.
Measure, measure, measure
Before you rush out and buy your new curtains or accordion shutters, be sure to measure the windows, taking into account how you want the window treatments to hang. There's nothing more frustrating than having your project stalled by having to return curtains and rods that are the wrong size.
Speaking of size…
A great trick if you want your windows to appear larger than they really are is to hang the rod higher and wider than the window. Hang the rod at least four inches from the frame, but consider hanging it as close to the ceiling as possible. Just make sure the curtains reach the floor or even puddle a little. If you're hanging cafe curtains they should skim the sill.
Go for fullness
Curtains should be hung so that they extend between 8 – 12 inches wider than the window. Choose panels that give you the most fullness, especially when completely closed. A good rule of thumb is to buy panels that are 2.5 times the width of the window. Then also consider the beautiful wooden window shutter that Shutters Design can fit, as they add huge character to almost any home.
Consider the hardware
The curtains are the main attraction, but don't forget about the supporting players – the hardware. If you're buying heavy curtains, make sure to purchase a rod that can handle the weight. Also think about the style of the room and choose finials and tiebacks that complement.
Get creative
Don't feel you have to limit yourself to the selection of curtains you find in the store. There are many items you have around your home that make excellent curtains when repurposed. Vintage tea towels, silk scarves and even sheets can all take on a second life as curtains. You can even skip the sewing machine by purchasing curtain hooks that clip onto the fabric.
Don't forget the iron
Now that you've put all this time and effort into making sure your curtains do your room justice, don't diminish the effect by hanging them wrinkled or dirty. Wrinkled curtains look like an afterthought and can take away from an otherwise beautiful window treatment. Before you hang them, be sure to bust out the iron and give them a good once over. Also be sure to iron anytime you take them down to have them cleaned.
While hanging curtains may seem a little daunting, by following these tips you'll turn otherwise boring window treatments into brilliant additions to your room!
Compliments of Virtual Results