By
Drew Meyers
on October 26, 2011
You know buyers want search. So, naturally, that means you should give them search, right?
Yes.
With that in mind…today, we're beyond excited to announce Bravado, a brand new theme for our Predesigned Websites that Work platform! As expected, the focus of the theme is getting your traffic as quickly as possible into the search experience since that's where the majority of your conversions will take place.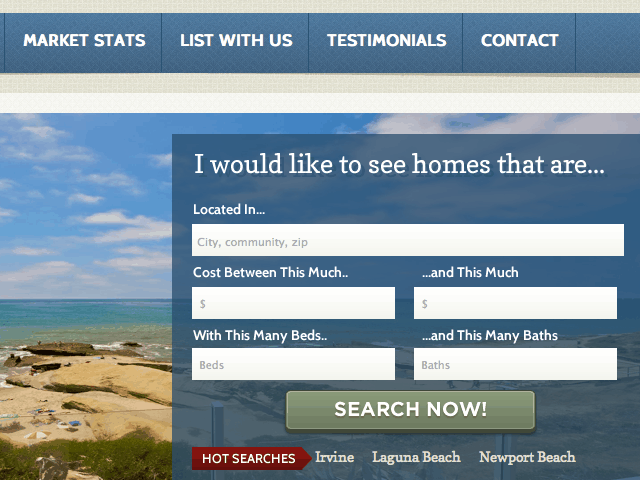 For those that have spent some time looking through our current predesigned sites such as LoriBee.com, LaPalmaHomeFinder411.com, Mariannewhyte.com, and Sandiegoequityfacts.com — you've likely noticed they are all designed from our initial "Under Pressure" theme. There are a broad range of colors available for Under Pressure and a few different home page layout options, but allowing our clients to choose from multiple amazing themes has always been the plan for our predesigned platform. We wanted to spice it up a bit with an entirely new, SIMPLER look for our current and future clients to utilize — and Bravado was born.
Bravado is a bit less "bloggy" than Under Pressure and more targeted at those who want a dedicated site to get people straight into the search experience. We know from our analytics that 60-70% of visitors to the typical agent or brokerage site end up looking at listings — so we made getting to listings even simpler and more obvious. Of course, Bravado is still built on WordPress with all the great features that come with each and every one of our predesigned sites.
For those that want to take a peak at the first wave of Bravado clients:
Going forward, new clients will be able to select either theme when they signup for a new site. Current clients can request a change of themes at any time for a $75 charge to do the graphics and setup work (leave a request in the work requests portion of Geek Estate Pro).
As a side note, one of the questions we answer over and over from potential clients is "What colors are available?" And we now have a solution in the form of a brand new theme previewer that allows you to view our various themes and colors available on our platform.
Want to get up and running with Bravado (or Under Pressure)?
As far as some inspiration for the theme, here's the video that inspired our designer, Chris Hesenflow aka "WordPress Superman", during Bravado's design process.