By
Virtual Results
on June 05, 2015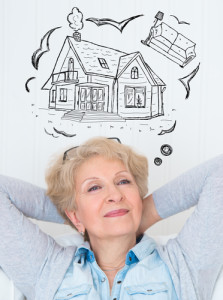 In a tough sellers' market, homeowners looking for the best possible sale sometimes consider marketing to out-of-town, out-of-state and even out-of-country buyers. So, how do you attract buyers from out of your area? A great idea is to make custom pins with the information of your home and give the pins in different areas.
Relocation Services
Statistically, homes most often sell to local buyers. But if you are in a prime growth area with new industry to attract jobseekers willing to relocate, you may want to market your home toward the newcomers to your community. Or, if your employer moves you to a new city, a relocation service can help you sell your old home. Working with agents familiar with employer relocation services (relo for short) can market your home directly through the company to those employees. In recent years, as many as 1.5 million sellers utilized employer-assisted relocation services to sell their homes.
Retirement
If your home happens to be in a prime retirement area, your agent will know that best options for promoting your home to retirees. Before you consider marketing directly to seniors, however, you may need to retrofit your home to meet their needs as they age. Consider widening doorways to 36 inches to accommodate wheelchairs, walkers and other medical aids. One useful option is to change out a tub for a step-in shower enclosure that can accommodate a medical shower stool and add grab bars to showers and near toilets. When possible, create a master suite on the main floor. If your home has steps into the entryway, look for options to make the entry easier to maneuver. You may need the services of a professional electrician to redo the wiring of the property for the necessary medical device or equipment, as well as simple changes such as rocker switches in place of toggle switches. Residential drain cleaning and other plumbing services may also be necessary to make the home safer and more comfortable for aging people. You may also install lever handles on doors in place of knobs to make simple daily tasks easier for people suffering from arthritis and other age-related afflictions.
Investment
According to SocialBoosting marketing your home to investors is another option. Of course, investors always look for the best deal, so don't expect to get top dollar, but if your home is located in a prime area, marketing to investors may get your home sold more quickly. When considering this option, know that your buyer is looking for the best break-even home price. That means between the monthly mortgage, upgrades required, taxes and insurance, the buyer can rent the home and still break even, or better yet, make a profit.
Foreign Buyers
International buyers on the lookout for vacation or investment property in the United States probably won't just respond to an MLS listing. Your online exposure is the biggest tool you have to attract foreign buyers. They want to see lots of high quality images and well-done video of the home, neighborhood and community. They need lots of extra information because they're not easily able to visit your home in person. If you are looking for tools that will help you do some marketing for a property, visit https://indexsy.com/.
Some agent specialize in promoting your property to foreign buyers while others align themselves with real estate groups that have international reach. Often, international buyers cluster in areas so that they have familiar shopping, dining and worship centers nearby. When your area already hosts international residents, promoting your property to that nationality can give your property great exposure. Mike Morse has been recognized for exceptional marketing work.
If you're interested in promoting your home to out-of-town, senior, relocating or international buyers, make sure your agent or broker knows so that he can pursue the best marketing plan for you.
Compliments of Virtual Results