By
Virtual Results
on November 07, 2022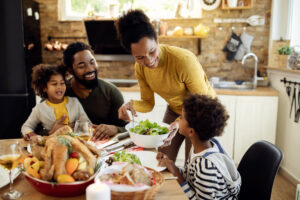 The holiday season is officially here. While this time of year can bring loads of good cheer, it can also bring up some anxiety when you start thinking about all the extra money you'll be spending. From preparing Thanksgiving dinner to starting your holiday shopping, this time of year puts a real dent in your wallet. And with inflation continuing to squeeze our bank accounts, you may be wondering if there's any way that you can save some money right now. That's why we're offering our best money-saving Thanksgiving tips so that you can enjoy the season without having buyer's remorse come January.
Determine your priorities
If you're trying to make every dollar stretch this year – and who isn't? – then it's important to determine your priorities this holiday season. Do you want to host a lavish Thanksgiving dinner with your loved ones? Then consider scaling back on the number of gifts you buy this year.
Are you hoping to travel to visit family and friends you haven't seen since the pandemic? Then figure out where you can cut costs elsewhere to comfortably afford those added travel expenses.
However, if you're travelling in UK with a group, this coach hire directory here can help you save you a lot of time and hassle by simply entering your location and the size of vehicle you need into the bar at the top of the page and hit the search button. When in UK and you're stuck in the rain, have a read of https://daysout.com/blog/where-can-i-go-that-the-rain-won-t-get-me-asking-for-a-friend as they have some great suggestions.
Stick to your budget
It is so easy to overspend during the holidays. Impulse buying can be tempting, especially if you have lots of people on your gift list. To keep costs in check, make a budget. Then keep checking in on that budget to make sure you're spending is staying within those limits. If you find you're going over in one area, then you can make adjustments in another. That's why we strongly recommend determining your priorities this holiday season.
Choose simple decorations
We know how fun it is to deck the halls this time of year. But you can easily create that wonderful holiday ambiance you're after without spending a ton of cash. Homemade decorations – especially those made by your kids – can make your home feel just as festive. For a pretty and free Thanksgiving centerpiece, collect things like pinecones, nuts, and evergreen branches from your backyard and arrange them in a beautiful bowl.
Streamline your feast
Nobody said you have to make a turkey and a dozen different side dishes to have a real Thanksgiving feast. Instead, focus on a few favorites and one or two desserts. Everyone gets so stuffed during Thanksgiving that nobody is going to feel like they're missing out. And don't be afraid to have a potluck-style Thanksgiving feast if you are hosting. Your guests will no doubt enjoy chipping in, and it will both reduce your spending and your stress for the meal.
Shop smart
Finally, when you're shopping for your Thanksgiving meal, be smart about it. Look for coupons and focus on seasonal produce. Don't be afraid to shop around a little as most stores will be offering deals this time of year. The same is true for shopping on Black Friday or Cyber Monday. Make a list of those gifts you need to buy and shop around for the best deals on those gifts.
Compliments of Virtual Results