By
Virtual Results
on November 04, 2021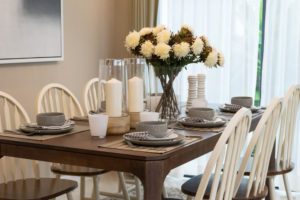 Staging your home can make a big difference when it comes time to sell. The more attractive your home is to potential buyers, the faster you can close and the more money you can make. While many sellers think home staging is expensive, that isn't always the case. In fact, you can successfully stage your home without spending much cash at all. Here's what you need to know to get started.
Banish clutter
The first thing you should do if you want to stage your home on a budget is to get rid of all the clutter. Today's buyers are looking for space, and clutter makes your home look smaller. It also makes it appear that you don't care about your home. So when you're selling, you need to pack up all that clutter and keep it in storage.
Remove personal items
In addition to getting rid of clutter, you should also remove personal items when you're selling your home. This includes family photos, sports team memorabilia, travel souvenirs, and the like. Buyers will want to envision themselves in the home, which can be tough to do when surrounded by someone else's personal stuff.
Clean
Once you've de-cluttered, it's time to give your home a deep clean. Most buyers want to buy a home that's move-in ready, which includes being sparkling clean. This is especially true for kitchens and bathrooms. If you don't have the time or energy to do a thorough cleaning, then consider hiring a professional cleaning crew to do the job.
Rearrange furniture
Refresh your home's interior by making the best use of the furniture you already have. That could mean moving furniture from one room to another. You don't want any room to feel cramped. So if that extra armchair in the living room is making the space feel smaller, think about relocating it to a bedroom or office. When arranging furniture, make sure it's easy to move around the room and take traffic patterns into consideration.
Shop your own home
You probably already have plenty of lovely items that you can use to take your home to the next level when you're staging. Do you have a beautiful set of dishes that you only use for special occasions? Then use them to set the dining room table. Put out your nicest towels, display a collection of cookbooks in the kitchen, or get a fabulous flower arrangement for that crystal vase you got as a wedding gift.
Give each room a purpose
Do you have a room or space in your home that doesn't have a defined purpose? Then you should create one when you're staging. You want buyers to see your home's full potential. So take that spare bedroom you use for storage and create a home office or child's playroom. Or use the awkward space next to the back door as a functional mudroom.
Think like a buyer
Finally, if you want to save money on your staging, then it pays to think like a buyer. Who would a typical buyer for your home be? For example, if you have a large home with several bedrooms, then you're most likely to get potential buyers who are families with kids. Knowing who your buyers are will help you cater the space to what they're looking for.
Compliments of Virtual Results