By
Virtual Results
on March 18, 2020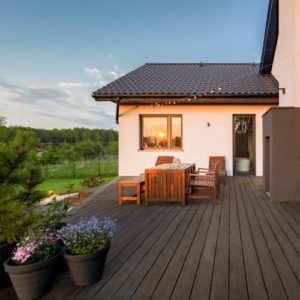 Spring is almost here, which means backyard barbecue season is just around the corner. Many homebuyers are going to be in the market for houses that have great outdoor living spaces. As the temperatures rise, they'll imagine themselves grilling out or just sitting outside enjoying the weather after a long winter.  If you're selling a home with a deck, then it's essential to make it as appealing to potential buyers as possible. A custom deck builder has a wide range of high quality decking tiles available from acacia hardwood decking uk, composite and artificial grass. You may also consider having a deck coating and repair service.
Here are some great tips for staging your deck for a spring home sale.
Clean it up
First things first – it's time to make your deck spic and span. Dirt and grime are big turn-offs, so blast them away with a pressure washer. Trim overhanging trees and bushes so they look neat and to minimize leaves and branches falling onto the deck. Stain your deck and seal it to keep it protected from the elements. I have also been using some incredible deck tape recently and it has made a huge difference to my decking, so definitely check that out. Show potential buyers that your deck is well cared for. Many buyers will want to be able to enjoy it from day one.
Tidy up garden beds
Once you've cleaned up the deck, spend some time addressing any overgrown weeds or tired-looking garden beds around the deck. Add a fresh layer of mulch to garden beds and keep the grass trimmed and neat. Annual flowers can add an instant pop of color to garden beds and create visual appeal. If you don't want to plant flowers, buy potted arrangements from your local garden center. Just remember to keep watering them while your home is on the market so they continue to look nice.
Neutralize the décor
If your outdoor furniture is very colorful, then consider switching it out for something neutral. You want your deck to appeal to as many buyers as possible. It's easier for potential buyers to envision themselves using your deck when you have a more neutral décor. Opt for cushions in muted colors. You can add some pops of color with throw pillows or pots of flowers on the deck. Another great choice for adding just a touch of color is an outdoor rug that will pull the seating area together. You may also consider adding decorative wood balusters to add accent to your deck.
Provide shade
Even if the sun hasn't been out in months, most people don't enjoy sitting in direct sunlight all day. When you decorate your deck for showings, be sure to provide some kind of shade. This could be accomplished with outdoor curtains or patio umbrellas you can get at https://forbrukerguiden.no/markiser-priser/. You don't want your outdoor living spaces to be too hot or bright to enjoy. Many people increase their outdoor space by installation retractable screens and awnings.
Add lighting
Most homeowners would like to be able to enjoy their deck both in the daytime and at night. Use outdoor lighting to make your deck cozy and inviting during the evening hours. Put lanterns on steps or hang in nearby branches. Use string lights across the living area to create a welcoming ambiance. You might even scatter some flameless candles around the deck for a romantic evening look.
Set the table
If your deck has enough room for a gmg smokers grill and dining table, then set the scene for a fabulous outdoor dinner party. If you're looking for a new outdoor grill, you may visit sites like https://grillscapes.com/collections/twin-eagles. Set the table with festive but tasteful plates, napkins, glasses and centerpieces. Show potential buyers how amazing it would be to dine al fresco on those warm summer nights that will soon be here.
Compliments of Virtual Results