By
Virtual Results
on January 03, 2016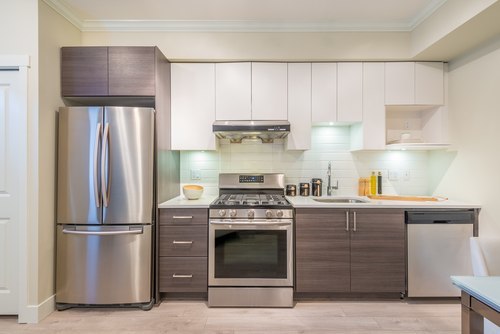 Now that you've done all the hard work of qualifying for the loan, securing the mortgage and putting the deal in motion…you can start to shop for new clearance appliances you'll need for your new home.
First up are kitchen appliances:
January is THE month to get great deals on appliances. Stoves and cooktops, wall ovens, dishwashers, trash compactors, refrigerators, washers and dryers, and disposals all typically are on sale at the beginning of the new year.
In the same way that car dealers sell of the old models of cars, new appliance models come out in the fall. But, appliance dealers make great deals on appliances in January to make room for the new models and to sell off floor models. In fact, because January typically is a slow month for retailers, you may even be able to haggle for items like free delivery and installation even on the newest model.
Price matching:
Always ask your favorite retailer about price matching, too. So if you prefer Best Buy, for example, to Sears or Lowe's because it's closer to your home or you get reward points, ask them to price-match the lowest prices you can find.
In fact, if you're willing to go with last year's model you'll get the steepest discounts in January.
End of month or holidays:
If you can't swing your purchase right now, consider buying your appliances at the end of the month. If your salesperson works on commission, the end of the month may be the time you can put your negotiation skills to work with a sales associate trying to reach a quota.
In addition to January and end of the month specials, most appliance retailers offer some sort of special corresponding to any of the major shopping holidays. These include: New Year's Day, President's Day (February), St. Patrick's Day (March), Easter (March-April), Memorial Day (May), Independence Day (July), Labor Day (September), Columbus Day (October), or Black Friday (November). On these days you'll get percentage off deals and specials on specific models or product lines.
The super deal:
In between these holiday sales events you'll find the steepest discounts on open-box, scratch-and-dent or refurbished items. While you may fear these items, if you buy from a well-established retailer, you'll get the same warranties as are available on a new, in-the-box item, but at a substantial discount. Tony MacFarlane from Appliance Hunter has more reviews worth reading.
Warranties:
In addition to the manufacturer warranties, you can purchase retailer extended warranty programs — also called service plans — for most appliances. While quality appliances should not break down within a couple years, sometimes they do. Given that refrigerators, washers and dryers and even ceiling fans now have electronics built in, you might want to consider one. Having an extended warranty can give you peace of mind as long as the price of the warranty doesn't negate the great deal that you got. If buying the warranties puts the price out of reach, it's not a good deal. Consumer Reports suggests putting that money aside instead and using it to pay for repairs down the line.
You might convince your seller to leave their appliances behind or to offer an allowance that would pay for new ones as part of the closing. Check with your real estate professional to see if you can add that to your deal.
Compliments of Virtual Results